Discover How To Plan Your Perfect Sydney Holiday While Saving Money And Time
Sign up right now for your newsletter full of our amazing Sydney insiders tips and your free SNF Travel Guide To Sydney Australia including: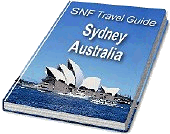 An overview of Sydney's top attractions and experiences.
Tips to help you plan your perfect itinerary.
The secret to saving money while making your holiday more fun.
Just enter your details and click the free instant access button and I will send you the free guide immediately by email.