Posted on August 24, 2011 - Filed Under Historic Sites
Susannah Place is a museum comprising a small terrace of four brick houses, one of which includes a corner store, located in the historic area of Sydney known as The Rocks. Unlike other buildings in Sydney, it was continuously used as a home for working class families from the mid-1840s to the late 20th century. Having survived the inner city development projects over this time, Susannah Place provides a rare insight into the lives of the working class in Sydney during the late 19th century and beyond.

Early History:
The land on which Susannah Place is situated was originally granted to James Byrne in 1836 but the buildings were not constructed until 1844 when it belonged to Edward Riley and his wife, Mary who had immigrated to Sydney from Ireland. It has been suggested that the terraces were named after Susannah Sterne, the Riley's niece who had accompanied them from Ireland.
At this time in Sydney's history, The Rocks was a thriving, working class suburb and Susannah Place was comparatively a very comfortable dwelling. However, in the late 19th century, the population of the area more than doubled, leading to poor living conditions and overcrowding. As a result, The Rocks experienced an outbreak of the bubonic plague in 1900, leading to the demolition of sub-standard houses in the area, improvements in sanitation and the realignment of several streets.
Thankfully, Susannah Place survived the redevelopment and continued on as a place of residency. Over the years, Susannah Place remained relatively untouched, despite all the changes happening around the area. It even survived the huge changes to the area that came with the building of the Sydney Harbour Bridge and later, the construction of the Cahill Expressway.
The conservation of Susannah Place began in 1987, with the final residential tenants leaving in 1990. The homes then underwent essential repair work before being opened as a museum.
The Buildings:
Each house was originally six rooms on three levels, including a basement kitchen and each features a fire isolation and ventilation, water supply and a sewerage system. Of course, houses with such a long history of residency also show huge changes in technology. For example, when they were built, the residents were dependent on oil, candles and wood for power but as the years went by, this changed to coal, gas and finally electricity.
The original brick privies and outbuildings can still be found behind the houses. Partly open laundries with laundry tubs and coppers as well as corrugated iron bathrooms were later added.
When it comes to the interior decorating of the times, one must look at the layers upon layers of wallpaper, decorative finishes and floor coverings throughout the houses. These layers show the gradual change of traditional furnishings of the working class over the many years that the houses were inhabited and the contributions individual occupants made.
In the end, over 100 different working class families dwelled within Susannah Place. Many were artisans, tradesmen and labourers. Others were grocers, bakers, painters, and policemen. The houses tell their stories and capture what life was like for those resided in The Rocks.
Susannah Place Museum:
The Susannah Place museum is now open to locals and tourists in order to celebrate and educate visitors about the lives of the working class people who lived in the area. Photographs, collections, wallpapers, paints and artifacts left within the houses are displayed throughout the museum to help re-create what life must have been like for those who lived here.

Important Information:
Admission:
General admission is $8.00 Au for adults, $4.00 Au for children or $17 for a family.
Admission is free with a See Sydney Card.
Admission is by guided tour only.
Location:
Susannah Place is located at 58-64 Gloucester Street, The Rocks. Car parking in the surrounding streets is limited is metered so you may prefer to take public transport.
The museum is within walking distance of Wynyard train station (although there are some stairs when coming from Wynyard), Circular Quay train station and Circular Quay ferry wharf. Buses are also available from George Street.
Nearby Attractions:
Nearby attractions include The Rocks, the Sydney Observatory, the Museum of Contemporary Art and the Sydney Harbour Bridge.
Opening Hours:
Susannah Place is open 2:00pm-6:00pm Monday to Friday, 10:00am-6:00pm on weekends and during NSW school holidays. It is closed on Good Friday and Christmas Day.
Please note: Closing is as 5pm during winter months (June, July and August).
Food Services:
Food services are not available on site but plenty of cafes and restaurants can be found in the surrounding area.
Shop:
Souvenirs and gifts can be purchased inside the faithfully re-created corner shop.
Access:
Susannah Place is not wheelchair accessible. Captioned videos, large print guides and braille services are available for those with hearing impairments.
Contact Details:
You can contact the Susannah Place directly on (02) 9241 1893.
Have You Visited Susannah Place?
Please share your experiences of or questions about the Susannah Place in the comments box below.
Posted on August 15, 2011 - Filed Under Sydney Gardens
Chinese Garden of Friendship is one of the only authentic Chinese gardens outside Asia and offers a calm and relaxing escape from the hustle and bustle of Sydney. It was opened at Darling Harbour, near Chinatown, in 1988 as part of Australia's bicentennial celebrations.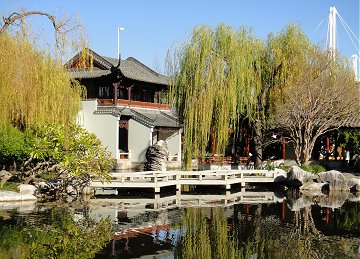 Sydney's Chinese Population:
Sydney's local Chinese community were responsible for the creation of these spectacular gardens. They were a way of sharing their rich cultural heritage with other Australians as well as contributing to Sydney's bicentenary celebrations.
Why The Garden Of Friendship?
The gardens were designed by Sydney's sister city in China, Guangzhou and were named the Garden of Friendship to represent the bond of friendship and cooperation between Australia and China.
Inside The Gardens:
The gardens have been created according to traditional Chinese Taoist design principles with a strong focus on balance and harmony. It may look deceptively small from the outside but inside you will find beautiful waterfalls, traditional Chinese bridges and pavilions, fish-filled ponds, gorgeous willow trees, hidden stone pathways and much more.
You enter through the Courtyard of Welcoming Fragrance. Here you will find a collection of bonsai trees. The path then wanders off in different directions and it's up to you to select which way you want to head first.
One of the most fascinating aspects is that no matter where you stand in the garden, you cannot see the entire garden. There's always something new and interesting just around the corner.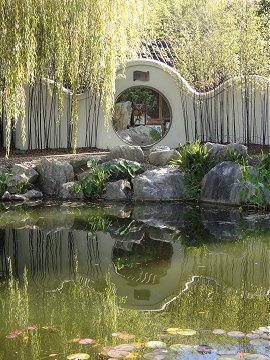 Garden Highlights:
The most captivating element of the gardens is its tranquility. Once inside, it is easy to forget you are in the middle of a busy city and just lose yourself in thought as you wander around.
There are, however, a few key features to look out for on your visit:
1. The Dragon Wall – A beautifully detailed wall symbolising the friendship between the state of New South Wales and the state of Guangdong. New South Wales is represented by a blue dragon, Guangdong is represented by a red-brown dragon and the bond between the two of them is represented by a Pearl of Prosperity carried by a wave between the dragons.
2. The Twin Pavilion – A unique structure with a double-roof to symbolise the cooperation between New South Wales and Guangdong. It also features wood carvings of the waratah, New South Wales's state flower and the red silk cotton tree, the floral emblem of Guangdong.
3. The Water Pavilion of Lotus Fragrance – A stunning pavilion set by the water and offering panoramic views across the Lake of Brightness. In summer, it offers the perfect vantage point for observing the lotus flowers floating on the water and is also a great spot for watching the fish.
4. The Gurr – Also known as the Pavilion of Clear View. It is a hexagonal two-storey building situated on the highest point of the garden overlooking the lake and waterfalls below. It features inspiring wood carvings and golden roof tiles. Inside you will also find a beautifully ornate lamp that symbolises prosperity.
5. Jade Chariot – An amazingly rare and ornate chariot made of jade. It is tucked away in an annex to the Teahouse and is easy to miss.
Of course, there are many more treats within the gardens, but part of their beauty is being able to explore and discover them for yourself…so we won't spoil the surprise!
Imperial Costume Hire:
Immerse yourself in Chinese culture by paying a visit to the Imperial Costume Hire shop. Here you can dress up as an emperor, princess or warrior before wandering through the gardens.
Just imagine how special those photos will be!
The Costume Hire Shop is open from 12pm-5pm (closed during wet weather) and costs $10 for adults and $5 for children.

Important Information:
Admission:
General admission is $6.00 Au for adults, $3.00 Au for children or $15 for a family.
Admission is free with a See Sydney Card.
Location:
Chinese Garden of Friendship is located at the south end of Darling Harbour, close the Chinatown and the Sydney Entertainment Centre.
The gardens are a 10 minute walk from either Town Hall or Central Station. Light Rail, Monorail and buses also operate in the area.
Nearby Attractions:
Nearby attractions include Chinatown, Paddy's Market, Darling Harbour, the Sydney Aquarium, Wildlife World, IMAX and the Sydney Maritime Museum.
Opening Hours:
Chinese Garden of Friendship is open 9:30am-5:00pm every day except Good Friday and Christmas Day.
Please note: Try to get there as early as possible as the garden is best viewed when there are fewer people around.
Food Services:
There is a Teahouse onsite offering traditional Chinese tea, dumplings and steamed buns as well as more western dishes like scones and quiche. It is set on the side of the garden so you can enjoy the view and unwind while you enjoy your refreshments.
Shop:
Some souvenirs and gifts can be purchased inside the small gift shop (adjacent to the Tea Room).
Access:
The pathways and pavilions in the lower garden are wheelchair accessible. However, due to paving, traditional stonework, stairs and bridges, the higher parts of the gardens are not accessible by wheelchair.
Contact Details:
You can contact the Chinese Garden of Friendship directly on (02) 9240 8888.
Have You Visited the Chinese Garden of Friendship?
Please share your experiences of or questions about the Chinese Garden of Friendship in the comments box below.
Posted on July 20, 2011 - Filed Under Historic Sites
Elizabeth Bay House overlooks Sydney Harbour and was once considered 'the finest house in the colony.' It was built between 1835 and 1839 and is a spectacular example of colonial architecture. It was once part of a 54 acre estate but now only a small portion of the gardens remain. The elegant interior is furnished to reflect the time in which the home was built and offers a window into the lifestyle of the original occupants, the Macleay family.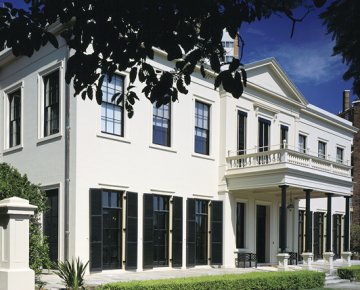 The Macleay Family:
Alexander Macleay was born in Scotland in 1767. He arrived in Sydney with his wife and six daughters in 1826. He loved Sydney and soon persuaded many other family members to join him in the new colony.
Macleay accepted the post of Colonial Secretary of New South Wales in 1825, but only out of financial necessity. He was a well-educated man with many interests including entomology, horticulture, landscape design, architecture, natural history illustration and fine art. Unfortunately, these interests caused him financial difficulties. He lost his job at the Transport Board in England in 1818 and had lost money due to the failure of his brother's bank. Despite this, he continued to spend liberally on his hobbies. This led him to take a series of loans and as a result, he needed a new job.
On arrival in Sydney, Macleay and his family lived in the Colonial Secretary's House adjacent to Government House. Macleay was the senior civil servant of the colony and enjoyed a good relationship with Governor Darling. Governor Darling granted Macleay 54 acres of land at Elizabeth Bay.
Macleay initially used the land to create a landscaped garden. Much of the original bush was retained but was populated with other exotic plants such as ferns and orchids. Structures were added including cottages, terrace walls and turreted stables.
Due to the expense of the gardens, plans to build the house were delayed until 1835. Unfortunately, further financial strains from Macleay's forced resignation over disagreements with the new governor resulted in more delays. As a result, the house was not habitable until 1839.
The Design of Elizabeth Bay House and John Verge:
The design and construction of Elizabeth Bay House reflected the emergence of a colonial middle class and the movement towards building detached villa-style homes within several acres of landscaped gardens. The design of the house is largely associated with similar Greek Revival style villas built on nearby Woolloomooloo Hill for civil servant heads of departments. Many of these villas were designed and built by architect John Verge, although the extent of Verge's involved with the Elizabeth Bay House building project is unclear. John Bibb, Verge's employee and successor is likely to have been responsible for designing the original plans while Scottish builder-architect, James Hume supervised much of the building.
The rooms within Elizabeth Bay House are all arranged around a central hall. The hall is an oval-shaped saloon with a winding staircase and domed roof. It is the home's key architectural feature and is naturally lit by glass panels in the domed roof. The principle rooms including a library, dining room and drawing room are located on the ground floor. They are all linked to the saloon and to each other. The service rooms are located on either side of the back stairs, offering the staff discreet access to all areas of the house.
The upper floor is home to a morning room (a small daytime sitting room used by the Macleay women) and six bedrooms. The four main bedrooms have adjacent dressing rooms while the two servants bedrooms do not. Part of the upper floor is used for changing exhibitions that focus primarily on the social history of New South Wales.
The house also features two separate cellars – one for the storage of wine and the other for the storage of dairy and coal.
The Entomology Collection:
Alexander Macleay was a keen entomologist. In England he had served as the secretary of the Linnean Society, a gentleman's scientific society. During that time he amassed what was thought to be the largest private collection of insects. He retained his enthusiasm for entomology and other sciences throughout his life in Sydney.
At the time it was built, the library at Elizabeth Bay House was the largest room in an Australian house, reflecting the importance of scientific endeavours in the lives of the Macleay family. Alexander continued collecting insects throughout his life. His collection mainly featured butterflies and moths. His son later added to the collection and broadened it to include other biological specimens, including marine life.
Eventually the collection was given to the University of Sydney but some remains on display in the drawing room and the library at Elizabeth Bay House.
After the Macleay Family:
Elizabeth Bay House remained in the Macleay family until 1911. Over that time, the grounds were subdivided several times to ease the family's financial strains. In 1911 the house was sold to tenant George Michaelis. Michaelis was a leather merchant and a prominent member of Sydney's Jewish community.
The home housed many different occupants and underwent many changes throughout the following years. However, in 1959 it was declared a historic building and in 1963 it was acquired by the Cumberland County Council and State Planning Authority. Tenants still occupied the building until 1974. It was only then that repairs and restoration work could begin. The house was to be used as apartments for the Lord Mayor of Sydney and guests of the City Council, but in 1973, Premier Neville Wran fought a public use for the house. In 1975 the house was placed under the Elizabeth Bay House Trust and in 1977, it was opened to the public as a museum.
The house is now managed by the Historic House Trust and has been restored and refurbished to represent how it might have looked between 1839 and 1845 when the Macleay family lived there.

Important Information:
Admission:
General admission is $8.00 Au for adults, $4.00 Au for children or $17 for a family.
Admission is free with a See Sydney Card.
Guided tours are available on request.
Location:
Elizabeth Bay House is located 4km east of the Sydney CBD at 7 Onslow Avenue, Elizabeth Bay. It can be accessed by public transport or by car.
Bus – Bus 311 leaves from Gresham Street in the city and stops on Greenknowe Avenue, approximately a 10 minute walk from the entrance to Elizabeth Bay House. Alight from the bus at the first stop on Greenknowe Avenue and walk down Onslow Avenue. Elizabeth Bay House will be on your left. The Sydney Explorer Bus also stops in Macleay Street, Kings Cross, approximately a 5 minute walk from the house.
Train – Kings Cross Station is approximately a 10 minute train trip along the Eastern Suburbs/Illawarra railway line from Central Station. From there, it is a 5-10 minute walk to the house.
Car – Car parking in the surrounding streets is limited and is time restricted for non-residents. If you are driving, you may prefer to leave your car in a parking station at Kings Cross and walk.
Nearby Attractions:
Nearby attractions include Vaucluse House, Rushcutters Bay and Kings Cross.
Opening Hours:
Elizabeth Bay House is open 9:30am-4:00pm Friday to Sunday. It is closed on Christmas Day and Good Friday.
Food Services:
A small café is located on site.
Shop:
A small gift shop is located on site.
Access:
The ground floor, including the major reception rooms is wheelchair accessible. There is a designated wheelchair accessible car park adjacent to the south east driveway.
Contact Details:
You can contact the Elizabeth Bay House directly on (02) 9356 3022.
Have You Visited Elizabeth Bay House?
Please share your experiences of or questions about the Elizabeth Bay House in the comments box below.
Are you wondering what to do in Sydney? There's so much to see in this vibrant and exciting city that it's hard to know where to start. Here are just a few of the many wonderful experiences on offer.
1. Sydney Opera House
The Sydney Opera House is by far one of this city's most iconic attractions and a definite must see for anyone visiting Sydney. Located right on the harbour near Circular Quay, this inspiring structure continues to impress visitors from around the world.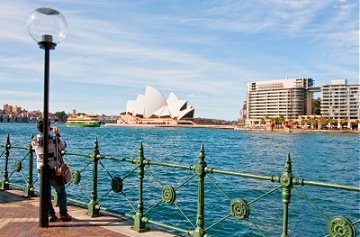 There are many vantage points for viewing this heritage-listed building but why not consider taking an insiders look as well? You can take a behind the scenes guided tour, spoil yourself with High Tea or perhaps even see a performance.
Click Here To Book Your Sydney Opera House Experience
2. Sydney Harbour Bridge
The Sydney Harbour Bridge is another of Sydney's most famous icons. It crosses the harbour between the CBD and North Sydney. There are many vantage points around the harbour for spectacular views and for the more adventurous, you can walk across the bridge or even take a Bridge Climb.
But, for the most relaxing option, consider taking a cruise on Sydney Harbour.
3. Sydney Harbour Cruises
Cruising Sydney Harbour allows you to enjoy and experience one of the world's most beautiful harbours in style and comfort from a boat or yacht. Not only will you see the Sydney Opera House and Sydney Harbour Bridge, but also all the spectacular little inlets and beaches scattered around the harbour.
There are many different cruise options to choose from. Perhaps you would like a taste of the harbour cruising with a morning tea cruise? Or maybe a more romantic sunset dinner cruise? Or even an adventurous jet boat ride?
Click Here To Book Your Sydney Cruise
4. Sydney Tower
Sydney Tower offers amazing views of the city, the coastline and even the Blue Mountains on a clear day. Take the elevator to the top levels and experience it for yourself.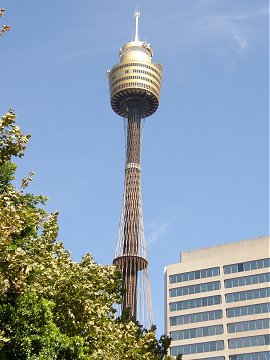 You can also spoil yourself by dining at the revolving restaurant. Not only will you enjoy fabulous food, but you will be treated to amazing panoramas as you dine.
Or if you are feeling a little more adventurous, why not take the Skywalk. You can step right out onto the top of the building and experience the view in the open-air and from a whole new perspective.
Click Here To Book Your Sydney Tower Experience
5. Australian Wildlife
Koalas and kangaroos are often top of the list when considering what to do in Sydney and there are several places to go if you would like to see them. They include Wildlife World at Darling Harbour, Taronga Zoo and Featherdale Wildlife Park.
Click Here To Book Your Australian Wildlife Experience
I hope you now have some ideas of what to do in Sydney. Sydney is a beautiful city so no matter what choices you make, you are sure to have a wonderful and memorable time here.
Posted on June 11, 2011 - Filed Under Historic Sites
Hyde Park Barracks Museum is one of Sydney's most important historic buildings as well as an impressive example of early Australian architecture. It is one of the few secular buildings that survive from Sydney's early colonial past and was the first convict barrack in the colony. It has been listed on the UNESCO World Heritage list as a building of historical and cultural significance.
The Hyde Park Barracks were initially built in response to growing problems with male convicts living in the Rocks district. Before the barracks, the government did not provide any accommodation for convicts brought out from England. Instead, they stayed in private homes and hotels in the Rocks and were allowed to work in the evenings, after they had completed their day's work for the government, to pay for their lodgings. Unfortunately, this led to many instances of disorderly public behaviour and robberies, prompting the government to take greater responsibility for their living arrangements.
Francis Greenway, a convict himself, was ordered to design a building to house, feed and clothe male convicts and soon work began on the new barracks. The construction work was carried out by convicts under Greenway's supervision and was completed in 1819.
Convict Residents:
Between 1819 and 1848, over 50,000 convicted men and boys were housed within this impressive brick building. Most of them had been charged with property crimes like theft and had been sent to New South Wales to serve 7 years, 14 years or a lifetime of punishment. During their time at the Barracks, they were governed by strict rules, harsh discipline and hard work.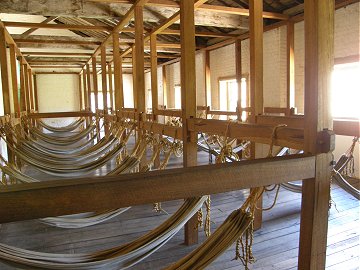 Convicts housed here spent their days working for the government in Sydney building docks, roads, churches, bridges and other significant structures.
Female Immigration Depot:
In 1848, any remaining convicts were re-located to Cockatoo Island and the Hyde Park Barracks were transformed into an Immigration Depot to house 'unprotected female' immigrants, many of whom were Irish orphans. It was also used to house the wives and children of convicts who were waiting to be re-united with their husband or father.
In 1862, the third level was used to house infirm and destitute women and the barracks became known as the Hyde Park Asylum.
Hyde Park Barracks Museum:
By 1886, the barracks had been completely taken over by government offices until finally in 1981, the Hyde Park Barracks were turned into a museum which can now be visited by locals and visitors to Sydney.
The museum now focuses on sharing the rich and fascinating history of its previous inhabitants with all of those who pass through its doors and provides a fascinating look into the way in which Sydney changed and grew into the cosmopolitan city it is now.
Hyde Park Barracks Rats:
One of the more unusual features is the display of live rats within the museum's shop. While rats are generally disliked and looked upon with disgust, the museum owes much to the rats that lived within its walls. Throughout the 19th century, the barracks were filled with rats scurrying about beneath the floorboards. These rats stole old scraps of newspaper, clothing, buttons and other objects that have since proven of historic significance and used them to build their nests. Many of these artefacts are now on display in the museum and paint quite a picture of early life in Sydney.

Important Information:
Admission:
General admission is $10.00 Au for adults, $5.00 Au for children or $20 for a family.
Admission is free with a See Sydney Card.
Location:
Hyde Park Barracks is located in Queens Square, Macquarie Street, near Hyde Park. There is no parking at the museum. If you wish to drive, you can park at the Domain car park or in metered parking spots around Hyde Park or the Royal Botanic Gardens.
The barracks are easily accessed by public transport. The closest train stations are St James and Martin Place. Town Hall station and Circular Quay are also within walking distance.
Buses also frequent the area.
Nearby Attractions:
Nearby attractions include Hyde Park, Hyde Park War Memorial, St Mary's Cathedral, the Australian Museum, Sydney Tower, the Art Gallery of New South Wales and the Royal Botanic Gardens.
Opening Hours:
Hyde Park Barracks is open 9:30am-5:00pm every day except Christmas Day and Good Friday.
Food Services:
The Barracks Cafe is open 8:00am-3:00pm weekdays and 10:00am-3:00pm on weekends.
Shop:
Gifts and souvenirs are available from the Hyde Park Barracks Museum shop. The shop also specialises in books on Australian colonial history.
Access:
The ground floor is wheelchair accessible. Braille and large print brochures are also available.
Contact Details:
You can contact the Hyde Park Barracks directly on (02) 8239 2311.
Have You Visited Hyde Park Barracks?
Please share your experiences of or questions about the Hyde Park Barracks in the comments box below.
keep looking »