Posted on June 11, 2011 - Filed Under Historic Sites
Hyde Park Barracks Museum is one of Sydney's most important historic buildings as well as an impressive example of early Australian architecture. It is one of the few secular buildings that survive from Sydney's early colonial past and was the first convict barrack in the colony. It has been listed on the UNESCO World Heritage list as a building of historical and cultural significance.
The Hyde Park Barracks were initially built in response to growing problems with male convicts living in the Rocks district. Before the barracks, the government did not provide any accommodation for convicts brought out from England. Instead, they stayed in private homes and hotels in the Rocks and were allowed to work in the evenings, after they had completed their day's work for the government, to pay for their lodgings. Unfortunately, this led to many instances of disorderly public behaviour and robberies, prompting the government to take greater responsibility for their living arrangements.
Francis Greenway, a convict himself, was ordered to design a building to house, feed and clothe male convicts and soon work began on the new barracks. The construction work was carried out by convicts under Greenway's supervision and was completed in 1819.
Convict Residents:
Between 1819 and 1848, over 50,000 convicted men and boys were housed within this impressive brick building. Most of them had been charged with property crimes like theft and had been sent to New South Wales to serve 7 years, 14 years or a lifetime of punishment. During their time at the Barracks, they were governed by strict rules, harsh discipline and hard work.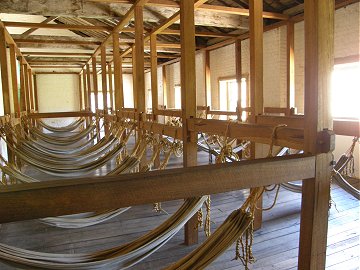 Convicts housed here spent their days working for the government in Sydney building docks, roads, churches, bridges and other significant structures.
Female Immigration Depot:
In 1848, any remaining convicts were re-located to Cockatoo Island and the Hyde Park Barracks were transformed into an Immigration Depot to house 'unprotected female' immigrants, many of whom were Irish orphans. It was also used to house the wives and children of convicts who were waiting to be re-united with their husband or father.
In 1862, the third level was used to house infirm and destitute women and the barracks became known as the Hyde Park Asylum.
Hyde Park Barracks Museum:
By 1886, the barracks had been completely taken over by government offices until finally in 1981, the Hyde Park Barracks were turned into a museum which can now be visited by locals and visitors to Sydney.
The museum now focuses on sharing the rich and fascinating history of its previous inhabitants with all of those who pass through its doors and provides a fascinating look into the way in which Sydney changed and grew into the cosmopolitan city it is now.
Hyde Park Barracks Rats:
One of the more unusual features is the display of live rats within the museum's shop. While rats are generally disliked and looked upon with disgust, the museum owes much to the rats that lived within its walls. Throughout the 19th century, the barracks were filled with rats scurrying about beneath the floorboards. These rats stole old scraps of newspaper, clothing, buttons and other objects that have since proven of historic significance and used them to build their nests. Many of these artefacts are now on display in the museum and paint quite a picture of early life in Sydney.

Important Information:
Admission:
General admission is $10.00 Au for adults, $5.00 Au for children or $20 for a family.
Admission is free with a See Sydney Card.
Location:
Hyde Park Barracks is located in Queens Square, Macquarie Street, near Hyde Park. There is no parking at the museum. If you wish to drive, you can park at the Domain car park or in metered parking spots around Hyde Park or the Royal Botanic Gardens.
The barracks are easily accessed by public transport. The closest train stations are St James and Martin Place. Town Hall station and Circular Quay are also within walking distance.
Buses also frequent the area.
Nearby Attractions:
Nearby attractions include Hyde Park, Hyde Park War Memorial, St Mary's Cathedral, the Australian Museum, Sydney Tower, the Art Gallery of New South Wales and the Royal Botanic Gardens.
Opening Hours:
Hyde Park Barracks is open 9:30am-5:00pm every day except Christmas Day and Good Friday.
Food Services:
The Barracks Cafe is open 8:00am-3:00pm weekdays and 10:00am-3:00pm on weekends.
Shop:
Gifts and souvenirs are available from the Hyde Park Barracks Museum shop. The shop also specialises in books on Australian colonial history.
Access:
The ground floor is wheelchair accessible. Braille and large print brochures are also available.
Contact Details:
You can contact the Hyde Park Barracks directly on (02) 8239 2311.
Have You Visited Hyde Park Barracks?
Please share your experiences of or questions about the Hyde Park Barracks in the comments box below.
This entry was posted on Saturday, June 11th, 2011 at 11:06 am and is filed under Historic Sites. You can follow any responses to this entry through the RSS 2.0 feed. You can leave a response, or trackback from your own site.
Comments