Posted on August 15, 2011 - Filed Under Sydney Gardens
Chinese Garden of Friendship is one of the only authentic Chinese gardens outside Asia and offers a calm and relaxing escape from the hustle and bustle of Sydney. It was opened at Darling Harbour, near Chinatown, in 1988 as part of Australia's bicentennial celebrations.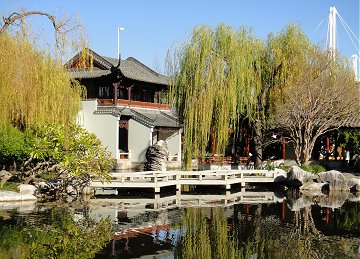 Sydney's Chinese Population:
Sydney's local Chinese community were responsible for the creation of these spectacular gardens. They were a way of sharing their rich cultural heritage with other Australians as well as contributing to Sydney's bicentenary celebrations.
Why The Garden Of Friendship?
The gardens were designed by Sydney's sister city in China, Guangzhou and were named the Garden of Friendship to represent the bond of friendship and cooperation between Australia and China.
Inside The Gardens:
The gardens have been created according to traditional Chinese Taoist design principles with a strong focus on balance and harmony. It may look deceptively small from the outside but inside you will find beautiful waterfalls, traditional Chinese bridges and pavilions, fish-filled ponds, gorgeous willow trees, hidden stone pathways and much more.
You enter through the Courtyard of Welcoming Fragrance. Here you will find a collection of bonsai trees. The path then wanders off in different directions and it's up to you to select which way you want to head first.
One of the most fascinating aspects is that no matter where you stand in the garden, you cannot see the entire garden. There's always something new and interesting just around the corner.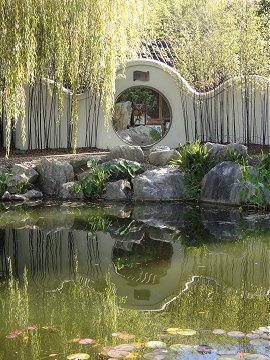 Garden Highlights:
The most captivating element of the gardens is its tranquility. Once inside, it is easy to forget you are in the middle of a busy city and just lose yourself in thought as you wander around.
There are, however, a few key features to look out for on your visit:
1. The Dragon Wall – A beautifully detailed wall symbolising the friendship between the state of New South Wales and the state of Guangdong. New South Wales is represented by a blue dragon, Guangdong is represented by a red-brown dragon and the bond between the two of them is represented by a Pearl of Prosperity carried by a wave between the dragons.
2. The Twin Pavilion – A unique structure with a double-roof to symbolise the cooperation between New South Wales and Guangdong. It also features wood carvings of the waratah, New South Wales's state flower and the red silk cotton tree, the floral emblem of Guangdong.
3. The Water Pavilion of Lotus Fragrance – A stunning pavilion set by the water and offering panoramic views across the Lake of Brightness. In summer, it offers the perfect vantage point for observing the lotus flowers floating on the water and is also a great spot for watching the fish.
4. The Gurr – Also known as the Pavilion of Clear View. It is a hexagonal two-storey building situated on the highest point of the garden overlooking the lake and waterfalls below. It features inspiring wood carvings and golden roof tiles. Inside you will also find a beautifully ornate lamp that symbolises prosperity.
5. Jade Chariot – An amazingly rare and ornate chariot made of jade. It is tucked away in an annex to the Teahouse and is easy to miss.
Of course, there are many more treats within the gardens, but part of their beauty is being able to explore and discover them for yourself…so we won't spoil the surprise!
Imperial Costume Hire:
Immerse yourself in Chinese culture by paying a visit to the Imperial Costume Hire shop. Here you can dress up as an emperor, princess or warrior before wandering through the gardens.
Just imagine how special those photos will be!
The Costume Hire Shop is open from 12pm-5pm (closed during wet weather) and costs $10 for adults and $5 for children.

Important Information:
Admission:
General admission is $6.00 Au for adults, $3.00 Au for children or $15 for a family.
Admission is free with a See Sydney Card.
Location:
Chinese Garden of Friendship is located at the south end of Darling Harbour, close the Chinatown and the Sydney Entertainment Centre.
The gardens are a 10 minute walk from either Town Hall or Central Station. Light Rail, Monorail and buses also operate in the area.
Nearby Attractions:
Nearby attractions include Chinatown, Paddy's Market, Darling Harbour, the Sydney Aquarium, Wildlife World, IMAX and the Sydney Maritime Museum.
Opening Hours:
Chinese Garden of Friendship is open 9:30am-5:00pm every day except Good Friday and Christmas Day.
Please note: Try to get there as early as possible as the garden is best viewed when there are fewer people around.
Food Services:
There is a Teahouse onsite offering traditional Chinese tea, dumplings and steamed buns as well as more western dishes like scones and quiche. It is set on the side of the garden so you can enjoy the view and unwind while you enjoy your refreshments.
Shop:
Some souvenirs and gifts can be purchased inside the small gift shop (adjacent to the Tea Room).
Access:
The pathways and pavilions in the lower garden are wheelchair accessible. However, due to paving, traditional stonework, stairs and bridges, the higher parts of the gardens are not accessible by wheelchair.
Contact Details:
You can contact the Chinese Garden of Friendship directly on (02) 9240 8888.
Have You Visited the Chinese Garden of Friendship?
Please share your experiences of or questions about the Chinese Garden of Friendship in the comments box below.
This entry was posted on Monday, August 15th, 2011 at 10:23 pm and is filed under Sydney Gardens. You can follow any responses to this entry through the RSS 2.0 feed. You can leave a response, or trackback from your own site.
Comments