Experiment Farm Cottage is the site of the first land release and the first farm in Australia. The cottage is one of Australia's oldest surviving buildings. It was built in the 1830s and is now home to a unique collection of Colonial furniture. It provides a window into the lifestyle of an important family in the early colony while the cellars house a museum. The museum details all phases of occupation and celebrates the life and achievements of ex-convict and farmer, James Ruse.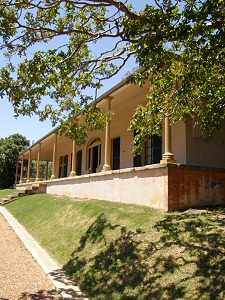 James Ruse:
The farm was originally established as an experiment in 1789. Governor Phillip believed agricultural self-sufficiency was crucial if the colony was to survive and wanted to test whether or not it could be achieved. He granted the land to ex-convict James Ruse on the condition that he attempt to establish a farm that could support and feed a family with little start-up assistance.
Ruse was given one and a half cleared acres of land and assistance in clearing another five acres. He was provided with two sows and six hens. He was also fed and clothed from the public store until he was able to provide for himself. Ruse achieved self-sufficiency quite quickly and was rewarded with further land grants, bringing his total property to 30 acres.
John Harris:
In 1793 Ruse sold his property to military surgeon John Harris for £40. Harris was originally from Ireland but was stationed at Parramatta in 1789. He soon gained favour and was granted land in the area. Through further grants and purchases, his land grew to 315 acres by the turn of the century.
Harris divided his time between being a surgeon and a farmer. In the early 1800s, he also took on the role of a magistrate. The position began in tumultuous time for Harris. He was disbarred and re-instated on multiple occasions until he officially retired in 1814. He settled down in Sydney with his wife and devoted his life to farming. However, he continued to play an active role in the community. He was a member of several public committees and was involved in the establishment of Australia's first bank, the Bank of New South Wales. He also acted as surgeon on Oxley's expedition to Bathurst and once again became a magistrate.
Harris built the Indian Bungalow now know as Experiment Farm Cottage sometime during the 1830s. It was not his permanent residence, but he often stayed there when his work brought him to the Parramatta area. Unfortunately though, he was unable to enjoy his bungalow for long as he passed away in 1838.
The National Trust:
Experiment Farm Cottage become one of the first properties acquired by the National Trust after one of its members noticed it going up for sale. The cottage then underwent extensive restoration to return it to its previous state. It is now furnished with simple, elegant pieces from the National Trust's collection to reflect Harris's lifestyle. The gardens have also been landscaped to show how it would have looked when Harris occupied the homestead.

Important Information:
Admission:
General admission is $6.00 Au for adults or $4.00 Au for children and includes a guided tour of the home.
Admission is free with a See Sydney Card.
Location:
Experiment Farm Cottage is located at 9 Ruse Street, Harris Park (near Parramatta), about 40 minutes west of Sydney's CBD. It is easily reached by car or public transport.
If arriving by public transport, take the train to Parramatta Station or the River Cat from Circular Quay to Parramatta. From there it is approximately a 15 minute walk. For a map on how to get there, please visit www.whereis.com.au and type in the address.
Free parking is available on site.
Nearby Attractions:
Nearby attractions include Elizabeth Farm, Hambledon Cottage and Old Government House.
Opening Hours:
Experiment Farm Cottage is open 10:30am-3:30pm Tuesday to Friday and 11:00am-3:30pm on weekends and public holidays.
Food Services:
There are picnic grounds on site.
Access:
Disabled entry is via the back door. There is no disabled access to the cellar.
Contact Details:
You can contact Experiment Farm Cottage directly on (02) 9635 5655.
Have You Visited Experiment Farm Cottage?
Please share your experiences of or questions about Experiment Farm Cottage in the comments box below.
This entry was posted on Thursday, January 3rd, 2008 at 8:05 pm and is filed under Historic Sites, Parramatta. You can follow any responses to this entry through the RSS 2.0 feed. You can leave a response, or trackback from your own site.
Comments