Posted on December 18, 2007 - Filed Under Special Events
Sydney New Years celebrations are widely acknowledged as the best in the world and are an experience not to be missed. The highlight of the celebrations is the dazzling fireworks display held in and around Sydney Harbour, of which the Sydney Harbour Bridge is the centrepiece.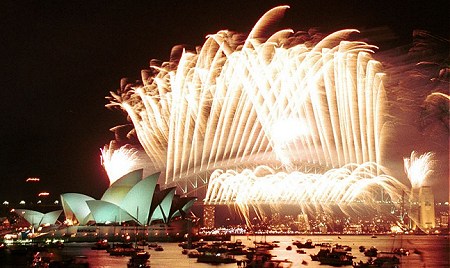 Over 1 million people gather around the harbour every year to join in the festivities – that's more people celebrating around Sydney Harbour than in New York's Times Square!
The Theme:
Each year the party is centred around a theme. This year's theme (2007/2008) is The Time Of Our Lives and will be symbolised by images of clocks and hourglasses. The images will appear throughout the city on signs and banners and will also feature in the fireworks and Sydney Harbour Bridge display.
The Timetable:
Sydney New Years celebrations officially kick off at 1pm with the firing of the Fort Denison Cannon. Events are then scheduled at hourly intervals throughout the afternoon and evening, finally culminating with incredible fireworks displays.
The timetable is:
1pm – The Fort Denison Cannon is fired
2pm – Sky Writing
3pm – Formation Flyovers starring Tiger Moths and Boeing Stearmans
4pm – Formation Flyovers starring Boeing Stearmans and Beechcraft Staggerwing
5pm – Pitt Specials Flyover
6pm – Tiger Moths, Boeing Stearmans, Beechcraft Staggerwing and a Pitt Special
Flyover
7pm – Fire Tug Display
8pm – Indigenous Welcome Ceremony on Sydney Harbour, a ritual of purification
and unity.
9pm – Family Fireworks and Harbour of Light Parade
10pm – Unveiling of Sydney Harbour Bridge Effect
11pm – Unveiling of Sydney Harbour Bridge Effect
12am – Fireworks and Sydney Harbour Bridge Effect
Family Fireworks:
Every year, Sydney puts on a magical fireworks display at 9pm so that children can also celebrate the New Year. This year's display will run for 8 minutes and feature four firing barges and special effects never seen before on the harbour.
The Harbour of Light Parade:
The Harbour of Light Parade will immediately follow the Family Fireworks. This parade will feature over 50 boats including Sydney's Heritage Fleet, Sydney Ferries, Tall Ships and private vessels. Each will feature an illuminated emblem to represent this year's theme. They will follow a 15km circuit around Sydney Harbour, including passage through the exclusion zone.

You can be a part of the parade and get the best vantage point for the fireworks without all the crowds by booking your ticket aboard one of these vessels.
Click here to view the options.
Midnight Fireworks:
The midnight fireworks spectacular will be the largest and most complex fireworks display on record. It will feature millions of dollars worth of pyrotechnics and 30,000 effects. Fireworks will be launched from six barges on the harbour and from the tops of eight city buildings. Keep an eye open for the brand new 3D fireworks that form dazzling cubes, shells and other shapes in the sky.
This year will also feature the most elaborate and dynamic bridge effect yet. And of course, they aren't telling us what it is yet! We'll just have to wait until New Year's Eve to find out.
Vantage Points:
There are free vantage points all around Sydney Harbour. Keep in mind that crowds start to gather very early in the day with most of the best vantage points taken by lunch time. Some areas will be closed off once the crowds reach a certain level for safety reasons.
For the ultimate Sydney New Years experience, book a ticket on board one of the luxury cruisers participating in the Harbour of Lights Parade. Not only will you be able to experience the parade first hand but you will have the best vantage point for both the 9pm family fireworks display and the midnight fireworks spectacular. You will be celebrating in comfort and without the crowds.
Make sure you book soon, as tickets are selling out fast.
Click here for more information and to book your spot in the Harbour of Lights Parade.
Please Think Ahead:
If you are taking children to the event, keep them close to you at all times and make sure they know what to do if they get lost. Huge crowds gather in Sydney for the celebrations so please make sure you are well prepared. I also recommend taking lots of water as you may find it difficult to weave your way in and out of the crowds just to buy a drink.
Are You Joining Sydney's New Years Celebrations?
Please share your experiences of or questions about Sydney New Years Celebrations in the comments box below.
This entry was posted on Tuesday, December 18th, 2007 at 10:41 pm and is filed under Special Events. You can follow any responses to this entry through the RSS 2.0 feed. You can leave a response, or trackback from your own site.
Comments