Posted on June 8, 2011 - Filed Under Historic Sites
Vaucluse House is Sydney's only remaining 19th century harbour-side estate. Set in ten of its original 206 hectares, this gothic-style sandstone mansion still retains its charm with its authentic interiors and magnificent gardens. The house, stables and laundry are still intact and provide a unique insight into the lifestyles of Sydney's upper class in 1800s.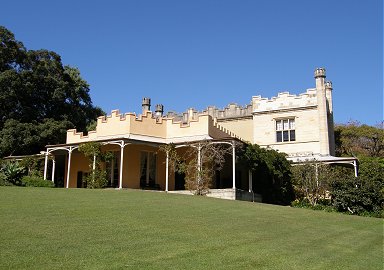 The house is three storeys and features 16 rooms. It is furnished with period items and many of the original fittings are still present. The extensive gardens and grounds overlooking Sydney Harbour have also been restored to their 19th century character. Features include lavish entertaining rooms, a colonial kitchen with a wood-fired stove, cellars and a sandstone walled courtyard.
Early History:
The land on which Vaucluse House is now located was originally granted to Thomas Laycock and Robert Cardell in the 1790s.
In 1803, Governor King granted permission to Sir Henry Brown Hayes to purchase the site. Hayes had been transported to Sydney for kidnapping the daughter of a wealthy Irish banker. He was considered to be troublesome and Governor King was glad to see him move to the outskirts of Sydney.
Hayes built a small cottage and several outbuildings on his new land. He cleared 20 hectares for agricultural purposes and planted thousands of fruit trees. He named his new home Vaucluse after Fontaine de Vaucluse in the south of France.
Hayes was pardoned by Governor Macquarie in 1812 and subsequently returned to Ireland. It is unclear who owned the property up until 1822 when it was acquired by Captain John Piper. Captain John Piper was a military man, extensive landowner and a close friend to Governor Macquarie. He later sold the property to cover his debt to the government and other creditors.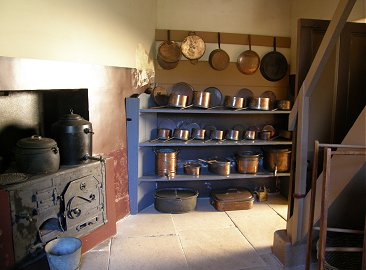 The Wentworth Family Moves In:
Vaucluse House is most famous for being the home of William Charles Wentworth, his wife Sarah and his family of ten children. They purchased the site at auction in 1827 for £1,500. The house as it is seen today was built by the Wentworth family and incorporates the original cottage built by Hayes. They made many improvements including the turreted sandstone stable and large kitchen wing.
William Charles Wentworth was a highly respected and influential figure in the early colony. He was a barrister, journalist, politician and explorer. He fought fiercely for a representative government and the right of trial by jury in the colony. His achievements include the formation of the nation's first university (the University of Sydney), his instrumental role in the drafting of the colony's first constitution and his exploration of the Blue Mountains. He was also the co-publisher of The Australian, the colony's first independent newspaper.
The family lived at the estate from 1827-1853 when they left for England. The move enabled Wentworth to act as an Australian representative in the colony's efforts for a full representatives government but also allowed the family to raise their daughters in a more receptive and appropriate social setting.
The family returned to Australia and Vaucluse in 1861. Renovations began immediately as the house was suffering from neglect. One of the most significant changes was the replacement of the flat-roofed veranda with the current Gothic-style veranda. However, there stay did not last long. The family left for England again in 1862.
Wentworth died in Dorset in 1872. His body was returned to Sydney for the first State funeral. He was buried at Vaucluse. The Wentworth family continued to live in England and retained their interest in Vaucluse House until the early 1900s when the contents of the house were auctioned.
Preservation of Vaucluse House:
In 1910, the Department of Lands established a public recreation ground at Vaucluse. This was the first step in the property's development as a heritage site. However, the house was in disrepair and many of the outbuildings were destroyed to provide for public needs. Finally a museum for Australian historic objects was established in 1915.
The NSW National Parks and Wildlife Department took over management of the site in 1967. As a result, over 200 indigenous trees were planted and a refurbishment of the house's interiors was announced.
The Historic Houses Trust was established in 1980 and in 1981 it took control of Vaucluse House. The Historic Houses Trust has restored both the house and the gardens to reflect the time the Wentworths occupied the estate, offering a unique look into the lifestyle and aspirations of this important colonial family.


Important Information:
Admission:
General admission is $8.00 Au for adults, $4.00 Au for children or $17 for a family. Admission is free with a See Sydney Card.
Guided tours are available.
Location:
Vaucluse is an affluent, mainly residential suburb located 15km east of the city on the South Head peninsula. It is one of Sydney's most expensive areas. Vaucluse House is located on Wentworth Road, Vaucluse.
If driving from the city, take New South Head Road, then Vaucluse Road. Bus 325 from the east end of Circular Quay stop near the front of the property.
The Sydney Bondi Hop-On Hop-Off Bus also stops nearby.
Parking is available on site.

Nearby Attractions:
Nearby attractions include Vaucluse Beach, Strickland House, Elizabeth Bay House, Nielsen Park and Watsons Bay.
Opening Hours:
Vaucluse House is open 9:30am-4:00pm Friday to Sunday (daily in January, NSW school holidays and public holidays). The grounds are open until 5:00pm. Vaucluse House is closed on Christmas Day and Good Friday.
Food Services:
The Vaucluse House Tea Rooms are located in the gardens and are open for brunch, lunch and Devonshire tea.
Shop:
The gift shop is filled with unique treasures including toys of yesteryear, garden publications, Victoriana and other unique gifts.
Access:
The ground floor is wheelchair accessible. A photographic tour of inaccessible rooms is available. Those with walking difficulties can be driven to the entrance of the house via the carriage loop. Entrance is via Olola Avenue. Audio, large print and Braille guides are also available.
Contact Details:
You can contact Vaucluse House directly on (02) 9388 7922.
Have You Visited Vaucluse House?
Please share your experiences of or questions about Vaucluse House in the comments box below.
Posted on June 7, 2011 - Filed Under Historic Sites
Hyde Park War Memorial, otherwise known as the ANZAC Memorial Building is located at the south end of Sydney's beautiful Hyde Park and is the primary commemorative military monument in the state of New South Wales.
In April 1916, on the first anniversary of the landing of Australian troops at Anzac Cove, Gallipoli, a fund was opened with the purpose of raising money for a permanent memorial to those from NSW who served in World War I. The fund reached 60,000 pounds by the end of the year, but it was not until 1923 that Hyde Park was suggested as the location for the memorial.
It took another six years for a design to be chosen. A competition was held and 117 designs were submitted from all around the world. The final design chosen for the Hyde Park Memorial was submitted by Mr C Bruce Dellit, a Sydney-born architect and included proposed sculptures by Raynor Hoff.
Building began in 1932 during the height of the Great Depression and was completed in 1934. His Royal Highness, the Duke of Gloucester officially opened the ANZAC Memorial Building on the 24th November 1934.
The ANZAC memorial was rededicated as a memorial to all Australians who serve their country in war in 1984.
The Design:
The Hyde Park War Memorial is one of Australia's most popular, most innovative, and most touching pieces of architecture in Australia and is particularly noted for its Art Deco style.
It stands over 30 metres high and incorporates a large number of Art Deco motifs as well as a number of beautifully carved sculptures both within the building and around the outside.
The memorial was constructed with the purpose of remembering people of the past in order to save the future. In order to convey this message to the people of Australia, Dellit chose to build the memorial with modern Australian expressions in mind – hence the strong Art Deco motif.
The sacrifices of war is a strong theme found throughout the memorial. For example, one sculpture shows three women and a child that represents how much men gave up when they travelled off to war leaving those who loved them behind. Another sculpture portrays a young soldier lying dead on the ground to represent the lives of those men who were lost during the war.
The Hall Of Memory:
The Hall of Memory is the main interior feature of the Hyde Park War Memorial. A circular hole can be found in the centre of the floor forming the Well of Contemplation that allows visitors to look down into the Hall of Silence. A marble balustrade in the form of a wreath surrounds the well.
While in the Hall of Memory, make sure you look up to view the 120,000 stars on the ceiling. Each one represents a man or woman from New South Wales who served during World War I.
The image of the rising sun can also be seen in the Hall of Memory. This is the emblem of the Australian Army. A stylised version of this image is engraved in the amber glazed windows on each side of the Hall of Memory. The sun shines through these windows, bathing the shrine in golden light to represent the hope of tomorrow.
The Flame Room:
The Flame Room is a small space on the east side of the Hall of Memory. Here you will find an Eternal Flame, now known as the Flame of Remembrance, a symbol of eternal life and the nation's gratitude and remembrance of its war dead.

Important Information:
Location:
Hyde Park War Memorial can be found at the southern end of Hyde Park, near the corner of Elizabeth and Liverpool Street. Museum station is only a few minutes walk away and many buses stop nearby.
The Sydney Bondi Hop-On Hop-Off Bus stops near the Australian Museum, a short and easy walk from the Hyde Park War Memorial.
Nearby Attractions:
Nearby attractions include Hyde Park, the Archibold Fountain and the Australian Museum.
Opening Hours:
Hyde Park War Memorial is open 9:00am-5:00pm every day except Christmas Day and Good Friday.
Keep in mind that access to the memorial may be limited on days of remembrance like Anzac Day (April 25th) and Remembrance Day (November 11th). Such events are devoted to remembering the lives of those who went off to war and ceremonies are held to celebrate the lives of these brave men and women. While access to the memorial may be restricted, such events provide an excellent opportunity to pay your respects to those who sacrificed so much.
Admission:
General admission is free.
Food Services:
Food is not available at the memorial, but there are plenty of food outlets and restaurants nearby.
Access:
The ground floor is wheelchair accessible.
Contact Details:
You can contact Hyde Park War Memorial directly on (02) 9267 7668.
Have You Visited Hyde Park War Memorial?
Please share your experiences of or questions about Hyde Park War Memorial in the comments box below.
Posted on June 6, 2011 - Filed Under Sydney Gardens
Mount Tomah Botanic Gardens is located 1000 metres above sea level in the heritage-listed Blue Mountains, west of Sydney. They are the cool-climate gardens of the Royal Botanic Gardens Sydney. They extend over 28 hectares and are home to over 5000 plants that would not grow well in Sydney's warmer climate. It is also home to a variety of Australian wildlife.
Mount Tomah:
In 1804 plant collector George Caley became the first European to reach 'Fern Tree Hill,' now known as Mount Tomah. The Aboriginal word 'tomah' means 'tree fern.' Subsequent exploration of the immediate area revealed that the mountains were capped with basalt, the result of ancient lava flows. Because of this, the soils were well-drained and rich in nutrients, unlike other areas of the Blue Mountains. This gave rise to a tall eucalypt forest with an understory of tree ferns and created a temperate rainforest.
Mount Tomah's rich soils and climate combined with its location along early exploration and transportation routes made it the ideal location for a colder climate garden.
Southern Hemisphere Plants:
The gardens focus extensively on plants from the southern hemisphere as they are distinctly different from northern hemisphere plants while bearing remarkable similarities to each other. This is despite the vast distances between continents like Australia, South America and Africa. These similarities are due to the fact that the southern landmasses were once part of Gondwana, one large super-continent.
Many of the plants in the garden have been grouped together based on their geographic origins, making a trip around the gardens a mini tour of the world. This gives you the opportunity to see the similarities between plants that once called Gondwana home and highlights the unique characteristics these plants developed as they grew in isolation.
Plants to look out for include proteas from South Africa, fuchsias from New Zealand and giant lobelias from Mount Kenya.
Northern Hemisphere Plants:
The gardens are also home to a significant number of northern hemisphere plants including oaks, pines, maples, cherries, rhododendrons, roses and many stunning ornamental plants.
Wollemi Pines:
The Wollemi Pine is a rare and endangered treasure. It was discovered by David Noble in a remote wilderness area in 1994. Until then this evolutionary line was thought to be long extinct. Look out for this pine while exploring the Gondwana Garden.

Important Information:
Admission:
General admission is $5.50 Au for adults or $3.30 Au for children. Admission is free with a See Sydney Card.
Guided tours are available.
Location:
The Mount Tomah Botanic Gardens are located on the Bells Line of Road and are an easy day trip from Sydney. If driving, take the Bells Line of Road from Richmond, through Bilpin. Allow 1 hour 45 minutes to get there from the Sydney CBD. Free parking is available on site.
There is no public transport to the gardens.
Nearby Attractions:
Nearby attractions include Katoomba, Leura, Scenic World and Jenolan Caves.
Opening Hours:
The Mount Tomah Botanic Gardens are open from 10:00am-4:00pm from the end of Daylight Saving in March to October and from 10:00am-5:00pm from the beginning of Daylight Saving in October through to March. They are closed Christmas Day.
Food Services:
The Mount Tomah Botanic Garden Restaurant is open every day except Christmas Day. There is also a kiosk (open most weekends and public holidays), barbeque facilities and picnic grounds on site.
Shop:
The Garden shop offers a wide variety of gifts and souvenirs including Australian plants, books, posters, clothing, toys, stationery and jewellery. A selection of botanical art by Australian artists is also available.
See Sydney Cardholders receive 10% all purchases.
Access:
Some areas of the gardens are wheelchair accessible. However, there are several steep paths and stairs. Wheelchairs are available at the Visitors Centre. They are free of charge, but a refundable deposit is required.
Contact Details:
You can contact the Mount Tomah Botanic Gardens directly on (02) 4567 2154.
Have You Visited The Mount Tomah Botanic Gardens?
Please share your experiences of or questions about the Mount Tomah Botanic Gardens in the comments box below.
Posted on June 5, 2011 - Filed Under Sydney Art Gallery
The Art Gallery of NSW is the leading gallery of art in Sydney. It is home to many fine works of art including both Australian and international pieces and both classic and modern pieces. It is one of the most beautiful art museums in the world and is located in parklands overlooking the spectacular Sydney Harbour.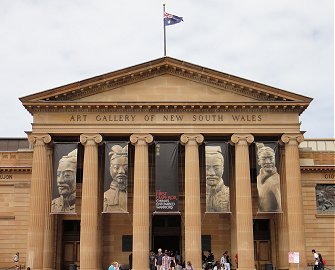 An Unusual Beginning:
The Art Gallery of NSW began its life in the 1870s as the Academy of Art. The academy was established partly in response to the violent unrest in Europe and the concerns that fine art was being lost in the turmoils of war and instability. It was hoped that the Academy of Art could carry the torch of culture here in Australia through classes, lectures and exhibitions.
Also playing a role in the formation of the academy was the traditional rivalry between Sydney and Melbourne. Melbourne had already established an art gallery in 1861 and it was thought it was high time Sydney had one too.
The Building:
The stunning classical building that is now the Art Gallery of New South Wales was not the gallery's first home. In fact, it had several temporary homes before moving to its current location next to the Botanic Gardens. They included the Clark's Assembly Hall in Elizabeth Street and the Garden Palace in the Botanic Gardens (which was eventually destroyed by fire).
The building was designed by government architect, Walter Vernon and built between 1896 and 1909. Its design is early Greek in style and is intended as a temple to art.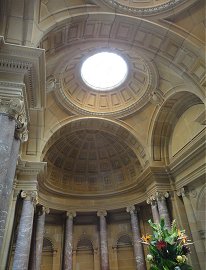 The interior is divided into large halls connected by pillared archways. Close attention has been paid to providing adequate lighting for viewing the art works and the ornate details, particularly in the entrance hall, are well worth a look.
The art gallery has been expanded on several occasions to make way for fabulous new collections including the Asian gallery and the Yiribana Gallery, a space devoted to Aboriginal and Torres Strait Islander art.
Visiting The Art Gallery Of NSW:
The Art Gallery of New South Wales owns a rich and varied collection of over 30,000 art pieces. Of course, not all of them are displayed at once but you can be assured that you will have plenty of inspiring pieces to see.
The permanent galleries include the following collections: Australian art, Aboriginal and Torres Strait Islander art, Asian art, Western art, Pacific art, Contemporary art and Photography.
The Australian art collection is of particular interest as it documents Australia's young history through art and features artwork by prominent Australian artists. Pieces dating back to the early 1800s as well as more contemporary works are on display, giving a real feel for changes in culture and art in Australia over the years.
Also of significance is the Aboriginal and Torres Strait Islander art gallery. It celebrates the heritage, culture and art of Australia's indigenous people and offers real insights into their traditions and customs. While the earliest work in the collection only dates back to the late 1800s, the stories told by many of the artworks dates back centuries and reflect the customs of the oldest continuous culture in the world.
Temporary exhibitions are also run throughout the year and are usually based around a central theme. For example, they might focus on the work of one particular artist or pieces from a particular time and place in history. The annual Art Express exhibition is particularly popular and features artwork from Year 12 Visual Arts students.
Temporary exhibits tend to last for 2-3 months and some attract an entrance fee. Please check with the Art Gallery Of NSW for a complete list of current exhibitions.

Take A Guided Tour:
If you would like to learn more about the art you are viewing, you may take a guided tour. There are several tour options available. They include:
1. Self-Guided Tours – Audio tours are available at the Gallery Ticketing Desk or can be downloaded to your mp3 player in advance from the gallery's website. There are several different tours to choose from including the Director's Choice Tour in which the gallery's directory talks you through his favourite pieces, the Curator Insights Tours in which a curator will talk you through a particular collection and the Kids Tour which has been specifically designed for the under 12s.
2. Guided Tours – The art gallery offers a range of free one hour guided tours led by trained volunteers. They include collection highlights tours as well as more in depth tours that focus on one particular gallery. Check with the gallery for running times.
3. Personal Tours – Personal tours can be arranged for a fee and must be booked in advance.
Extra Activities:
The gallery's goal is to educate and inspire and to that end, they offer a wide range of extra activities to enhance your experience of art. They include films, music, lectures, performances, exhibition talks, courses, celebrity talks and much more.
They even have programs and activities specially developed for children and families. For example, you can pick up a Children's Trail booklet that is designed to encourage your child to explore and engage in the world of art as you move through the gallery. Or you can take a child's tour with a trained guide to introduce your child to art pieces through stories, games and interactions.
If you have more time, you can also enroll your child in a workshop or class where they are tutored by professional artists in a fun and inspirational environment.
Important Information:
Admission:
General admission is free. Additional charges may apply for temporary exhibits.
Entrance to temporary exhibits is free with a See Sydney Card.
Location:
The Art Gallery Of NSW is located in the Domain, next to the Botanic Gardens and overlooking Sydney Harbour. It is a five minute walk from Macquarie Street.
The nearest train stations are St James and Martin Place. Or you take the train to Town Hall station and take a bus.
Bus 441 departs from the York Street side of the Queen Victoria Building (near Town Hall station) and will drop you off right outside the Art Gallery of New South Wales. If you are using the Sydney Explorer bus, the closest stop is Stop #12 (outside the Department of Lands).
Limited meter parking is available on Art Gallery Road, Mrs Macquaries Road and other streets around the Art Gallery. Nearby parking stations include the Domain car park which offers discounted parking to gallery visitors on weekdays (you will need to get your parking ticket stamped at the gallery).
Nearby Attractions:
Nearby attractions include the Botanic Gardens, St Mary's Cathedral, Hyde Park, Hyde Park Barracks, the Archibold Fountain and the Australian Museum.
Opening Hours:
The Art Gallery of NSW is open 10:00am-5:00pm every day except Christmas Day and Good Friday.
The gallery remains open until 9pm every Wednesday for Art After Hours.
Food Services:
Food is available in the galleries café and restaurant.
For a special treat, why not spoil yourself with High Tea at the Gallery Restaurant. Indulge in sweet and savoury treats as you sit back and enjoy a beautiful view of Sydney Harbour.


Access:
The Art Gallery of New South Wales is wheelchair accessible. The wheelchair entrance is located at the rear of the gallery.
Contact Details:
You can contact the Art Gallery Of New South Wales directly on 1800 679 278.
Have You Visited Art Gallery Of NSW?
Please share your experiences of or questions about Art Gallery Of NSW in the comments box below.
Elizabeth Farm was home to wool pioneers, John and Elizabeth Macarthur and is considered the birthplace of the Australian wool industry. It was commenced in 1793 and originally overlooked a farm of nearly 1000 acres stretching from Parramatta Road to the Parramatta River. The house has undergone many changes over time with extensive renovations enveloping the original dwelling. However, parts of the original home have been preserved, making it the oldest European building in Australia.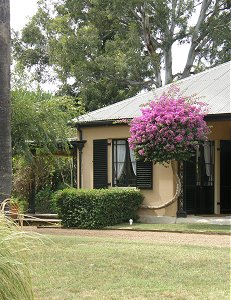 The house is now an innovative hands-on museum inviting guests to experience what it would have been liked to live there during the early 1800s. There are no barriers, leaving you free to explore the house and its contents. You can take a seat and leaf through some old family letters, try your hand at playing the piano or relax on the veranda.
The House:
Elizabeth Farm was named after Elizabeth Macarthur. It began its life as a three-roomed brick cottage but was transformed into a smart 15-room country house in the 1820s. Rather than building a two storey mansion, the Macarthurs opted for a single story 'Indian Bungalow' design with deep, shady verandas. This style soon caught on and became the basis for the design of the typical Australian homestead.
The interior features sophisticated cedar joinery, plasterwork and finishes and refects John Macarthur's taste for classical design.
The 1830s garden has been recreated based on paintings from the time. Unfortunately much of the original garden was lost in the various sub-divisions and selling off of land. However, two hoop pines remain in front of the house. Also, grey-leaved fruiting olives that were possibly planted by Macarthur in 1805 can still be found in the garden and are among the oldest surviving exotic plants in Australia. Other surviving trees include bunya pines and kurrajongs.
John Macarthur:
John Macarthur was an influential and colourful character in Australia's history. While known as the father of the Australian wool industry, his life was also littered with trouble and conflict.
He arrived in Sydney with his wife Elizabeth and their 15 month old son with the second fleet in 1790. He was a military man and came to Sydney as a lieutenant of the New South Wales Corps. He was quarrelsome and often involved in petty disagreements and his behaviour soon led to a reprimand from Governor Phillip.
When Governor Phillip left the colony, John was appointed regimental paymaster and later inspector of public works. This resulted in a significant pay rise and gave John control over much of the colony's labour and material resources. During this time, he was stationed at Parramatta and in 1793 he was granted 100 acres of land in the area. He soon established a farm and built a home. The family moved in November 1793.
Over the coming years, John continued building his farming enterprises but his public life remained troubled. He clashed with Governor Hunter and later with Governor King. This led to his arrest and transportation to a court martial in England in 1801. He was not convicted and was ordered to return to the colony.
While in England, John took advantage of the short supply in the British wool trade to promote colonial wool. He aroused much interest and established himself as the colony's representative of the industry. When he returned to the colony he resigned from the army. He imported marino sheep from Spain and began building Australia's wool industry.
The following years were not without incidence. His involvement in The Rum Rebellion of 1808 and the illegal arrest of Governor Bligh led to a period of exile in England. During this time Macarthur continued promoting the sale of colonial wool and campaigned to return to Australia. Meanwhile, Elizabeth Macarthur continued to run his affairs back home. In 1817, after eight and half years, Macarthur was granted permission to return to New South Wales on the condition that he no longer participated in public affairs.
Over the coming years, Macarthur found great success with his wool exports. The prices in London continued to rise and he was awarded several prizes for the quality and quantity of his wool. The size of his land holdings grew and the family's fortune was established.
He undertook extensive renovation and building projects at Elizabeth Farm and at other sites he owned. He developed one scheme after another, but saw few of them through to fruition. He would enter frenzied periods of planning and building but these would be followed by bouts of severe depression when many plans were abandoned. His sanity soon came into question and in 1832 he was pronounced a lunatic. He died at Camden in 1834.
The House After John Macarthur:
John Macarthur's extensive remodelling of the house was not finished until after his death. Elizabeth continued living in the home with her daughters until her death in 1850. The family retained ownership of the home for many years.
Finally, in 1881 it was sold to Septimus Alfred Stephen. Stephen subdivided the land and put the house block up for auction in 1883. The house was home to several different occupants until 1904 when it was purchased by William Swann.
Swann undertook extensive repairs and in 1905, his family moved in. The Swann family is credited with preserving much of the original character of the house. They lived in the house and kept it in good repair, but changed very little. When the family sold the house to the Elizabeth Farm Museum Trust in 1968, it still retained the charm that Elizabeth Macarthur had known.
Elizabeth Farm is now maintained by the Historic Houses Trust. The furnishings are simple and in many cases are modern replicas of what may have been there during the time of the Macarthurs. As a result, you have much more access to the rooms than in most house museums. The intention was not to exactly replicate the original furnishings but to demonstrate how the rooms would have been used. It is hoped that this will allow you to experience what life must have been like in the 1800s.

Important Information:
Admission:
General admission is $8.00 Au for adults, $4.00 Au for children or $17.00 for families. Admission is free with a See Sydney Card.
Guided tours are available on request.
Location:
Elizabeth Farm is located at 70 Alice Street, Rosehill (near Parramatta), about 40 minutes west of Sydney's CBD. It is easily reached by car or public transport.
If arriving by public transport, take the train to Parramatta Station or the River Cat from Circular Quay to Parramatta. From there it is approximately a 20 minute walk or a short bus ride on bus #547 or Transit First Bus #909.
Alternatively, take the train to Rosehill Station (on the Carlingford line) or Harris Park Station.
Parking is available in Alice Street.
Nearby Attractions:
Nearby attractions include Experiment Farm Cottage, Hambledon Cottage and Old Government House.
Opening Hours:
Elizabeth Farm is open Friday to Sunday from 9:30am-4:00pm (daily in January, NSW school holidays and public holidays). It is closed on Christmas Day and Good Friday.
Food Services:
The Elizabeth Farm Tearooms are adjacent to the gardens. They offer coffee, cakes, sandwiches and light lunches. They are open 11:00am-3:00pm
Shop:
There is a small book store on site.
Access:
Most of the farm is wheelchair accessible. Only the kitchen and cellar are not wheelchair accessible.
Contact Details:
You can contact Elizabeth Farm directly on (02) 9635 9488.
Have You Visited Elizabeth Farm?
Please share your experiences of or questions about Elizabeth Farm in the comments box below.
« go back
—
keep looking »