Posted on December 14, 2007 - Filed Under Wildlife Experiences
Taronga Zoo is known as the 'zoo with a view' due to its location on a hill overlooking Sydney Harbour. It covers 28 hectares and offers stunning views of the harbour, the Sydney Harbour Bridge and the Sydney Opera House. It is home to over 2600 Australian and international animals representing approximately 340 species.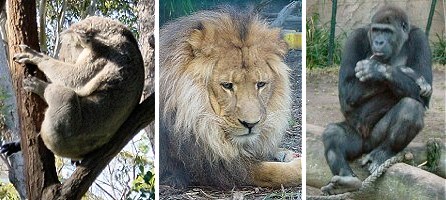 History of Taronga Zoo:
Taronga Zoo was the first public zoo in New South Wales. It opened in 1884 in Moore Park on the site now occupied by Sydney Boys High School. In 1908, the secretary of the zoo was inspired by a visit to Hamburg Zoo in Germany, returning to Sydney with the dream of building a bar-free zoo. He soon realised this would not be possible at the original site. In 1916 the zoo was moved to Mosman to give the animals more space and allow for future growth.
The first animals to call the new zoo home included monkeys, seals, elephants and more than 500 birds. A giraffe house, tiger pits and an aquarium were added soon after followed by larger cats, apes, gorillas and koalas.
In 1967 the zoo shifted to a new focus on scientific research, conservation and education. Platypus and nocturnal houses, waterfowl ponds and a rainforest aviary were established. A Veterinary Quarantine Centre and an Education Centre were also added while other attractions like the miniature train and the elephant rides were removed.
The zoo continues to advance by creating more open and natural environments for the animals, participating in education projects and devoting extensive resources to further scientific research.
The Animals:
Taronga Zoo is home to a wide variety of Australian animals. You can find them in several different areas of the zoo. These include:
The Koala Walkabout – a close up look at the koala, Australia's favourite animal. For a fee, you can have your photo taken with a koala, but touching them is strictly forbidden.
The Platypus House – see one of Australia's most unique animals, the platypus. The Common Wombat and the Spinifex Hopping-mouse also reside here.
The Australian Walkabout – allows you to walk in amongst the kangaroos, wallabies and emus.
The Australian Wetlands – home to a number of species including brolgas, Australian pelicans, several species of ducks and black-necked storks.
Australian Rainforest Aviary – see some of Australia's most beautiful birds including parrots, lorikeets, rosellas and doves.
Australian Bush Birds – more Australian birds including kookaburras, kingfishers, lorikeets, honeyeaters, wrens, finches and cockatoos.
Wild Australia – a great place for spotting echnidas, dingos and Tasmanian devils.
Australian Nightlife – home to a variety of nocturnal animals including bilbies, possums, gliders and bandicoots.
Reptile World – home to a variety of Australian lizards and snakes.
The zoo is also home to many species from around the world. They include bears, monkeys, gorillas, gibbons, zebra, giraffes, seals and sea lions, big cats like lions and tigers, bongo, meerkats, red pandas, giant tortoises and elephants.
The zoo runs several feeding sessions and educational presentations throughout the day. Make sure you check times on arrival.
Getting Around The Zoo:
Taronga Zoo is located on a hill so can be tiring to walk around. Where possible, start at the top of the zoo and walk down. The Sky Safari cable car runs through the treetops offering not only an easy way to reach the top but also spectacular views of Sydney and the animals below.
Up Close And Personal At The Zoo:
There are several tours available that give you a much more personalised and close up look at the zoo and the animals that live there. These tours give you the opportunity to feed some animals, go to areas where the general public are not allowed and learn more about the animals you are seeing. Recommended tour options include the Sydney Taronga Zoo's Australian Animals Tour or the Sydney Taronga Zoo's Wild Australia Experience.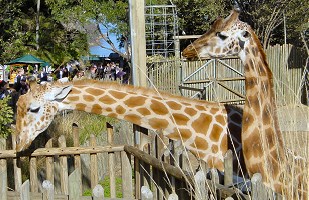 Important Information:
Admission:
General admission is $37.00 Au for adults or $18.00 Au for children. A Family Pass for 2 adults and 2 children is $93.00 Au.
Click Here to view General Admission and Tour Options.
Admission is free with a See Sydney Card.
Zoo Passes including admission to the zoo, use of the Sky Safari cable car, use of the bus from Taronga Wharf to the top of the zoo and return transport aboard Sydney ferries are available from ferry ticket offices at Circular Quay. They cost $44.00 Au for the first adult, $38.00 for the second adult, $21.50 Au for the first child and $13.50 Au each for additional children.
Location:
Taronga Zoo is located on Bradley's Head Rd in Mosman. It can be reached by car or public transport.
The most popular way to get there is by ferry from Circular Quay. Services operate every 30 minutes. The ride takes around 12 minutes and brings you right to the bottom of the zoo. From the Taronga Wharf, take the bus or the Sky Safari cable car to the top of the zoo.
Alternatively, Matilda Cruises operates an express service aboard their cruise rockets to the zoo from Darling Harbour and Circular Quay.
You can also take bus 247 between Wynyard bus station and the zoo's main entrance. The ride takes approximately 30minutes.
Parking is available for a $10.00 Au fee. It is payable on your way out.
Nearby Attractions:
While at the zoo you can enjoy picturesque views of Sydney Harbour, the Sydney Harbour Bridge and the Sydney Opera House.
Opening Hours:
Taronga Zoo is open 9:00am-5:00pm, 7 days a week, including Christmas Day.
Food Services:
There are several food choices available at the zoo ranging from fast food outlets to a sit down restaurant and cafe. There are also a number of picnic areas if you wish to bring your own food.
Shop:
There are several gift shops located throughout the zoo. Most merchandise is related to wildlife and the environment and focuses heavily on education. The zoo is renowned for its soft toys due to focus they place on providing the best possible representation of the animals. Profits made from all merchandise sales are invested back into the zoo's programs for the care and conservation of wildlife.
Access:
Wheelchairs are available for hire free of charge. Calling ahead to book is recommended. Strollers can also be hired for $12.00 Au a day.
Contact Details:
You can contact Taronga Zoo directly on (02) 9969 2777.
Have You Visited Taronga Zoo?
Please share your experiences of or questions about Taronga Zoo in the comments box below.
This entry was posted on Friday, December 14th, 2007 at 12:04 am and is filed under Wildlife Experiences. You can follow any responses to this entry through the RSS 2.0 feed. You can leave a response, or trackback from your own site.
Comments